I'm continuing using nagios with a charm that implements the "local-monitors" interface, derived from this repo: https://github.com/erik78se/juju-operators-examples/tree/main/monitoring-nrpe
My charm plays nicely with nagios much thatnx to the superb help from @mthaddon. To this point its been really helpful and I'm successfully using it to send alerts now also to pagerduty.
However, it seems I can't get nagios to understand the config.yaml elements from my related charm "polkadot":
juju config nagios_servicegroups = "rpc"

or
 juju config nagios_context = "dwellir"

This has no impact on the nagios side of things.
In the interface there is nothing like what I use: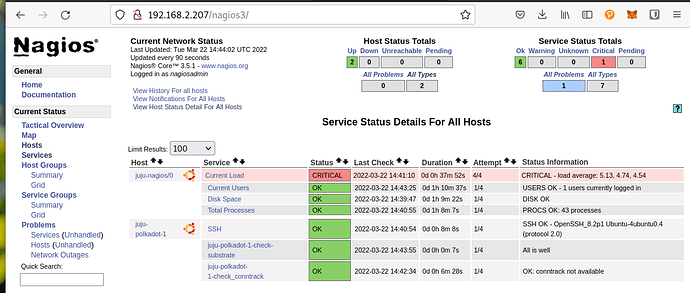 … and the code from the ops side of things looks like this:
def render_checks(self):
    """Render nrpe checks."""
    nrpe = NRPE()
    if not os.path.exists(self.plugins_dir):
        os.makedirs(self.plugins_dir)

    # Register a basic test.
    # Just add more with add_check before nrpe.write()

    nrpe.add_check(
        shortname="check-substrate",
        description="RPC blocksync",
        check_cmd="check_substrate.sh",
    )
    nrpe.write()

Anyone with experience here?